Schedule a Visit
Jennifer has presented Dumplings Mean Family to over 50,000 students at 100 schools since its release, and she would love to be with you!
Want to have Jennifer Shaw come to your school or group? As both a professional speaker and a mom of 6, Jennifer delivers a touching, funny, and highly interesting author visit for schools, libraries, church groups and others!
Jennifer is strongly committed to making author visits affordable and easy. She is traveling from the Columbus, OH area, so if that is your home area, please contact us to see how you can have an author visit for free! If you are outside that area, please contact us to see how we can make a very inexpensive visit possible. Additionally, Jennifer is always willing to do a virtual visit, so again, contact us for ideas and more information!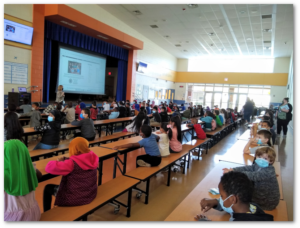 Things Jennifer can share at an author visit:
1. A reading of the book.
2. The family story behind the book.
3. How the story was written.
4. Chinese culture and food photos from the Shaw's visits to China.
5. Age appropriate and sensitive discussion of the process of adoption.
6. How the illustrations were made. Dumplings Mean Family was digitally illustrated by Jennifer's daughter, Rinnah Shaw, who has made a video of the process to share with schools.
7. How to make dumplings!
8. Writing a Chinese character and/or learning some Chinese vocabulary.
9. Time for Q&A.
Themes: adoption, cultural diversity, respect, love of family, food
Dumplings Mean Family shows the powerful love of family that wraps around the world and brings us all together.  A beautiful story that all ages will enjoy!
Megan Mott, Library Specialist, Bluffsview Elementary School
As an elementary educator, and an adoptive mama myself – I couldn't LOVE this book more! First and foremost, I love the reminder that even if our families look (or eat!) different, we are still a family. The way acceptance and tolerance are shown through is so important for young readers. I am always looking for quality stories to share with my class, and my own children, that place value on accepting and honoring our differences, and Dumplings Mean Family does this so very well. And let's not overlook the amazing illustrations in this book! The stunning detail and the bright colors drew me in from the second I opened it. I love that the text, AND the images are representative of "real life".
Erin Bradshaw, first grade teacher and adoptive parent, Worthington Hills Elementary
This heartwarming story about cultures coming together will bring both laughter and joy to readers. The characters and their journey are brought to life by the beautiful illustrations and words, and I felt as though I was sitting at their table with them! It is a must-have book for school and library shelves!
Ally Minister, elementary educator and EL specialist
Jennifer Shaw was an amazing presenter! Students were actively engaged as she explained her writing process and the similarities and differences between American and Chinese culture. She truly connected with our kids, from kindergarten all the way to fifth grade!
Colleen Kochensparger, Library/Media Specialist, Slate Hill Elementary School